Make your Outdoor Camping Memorable with Dome Tents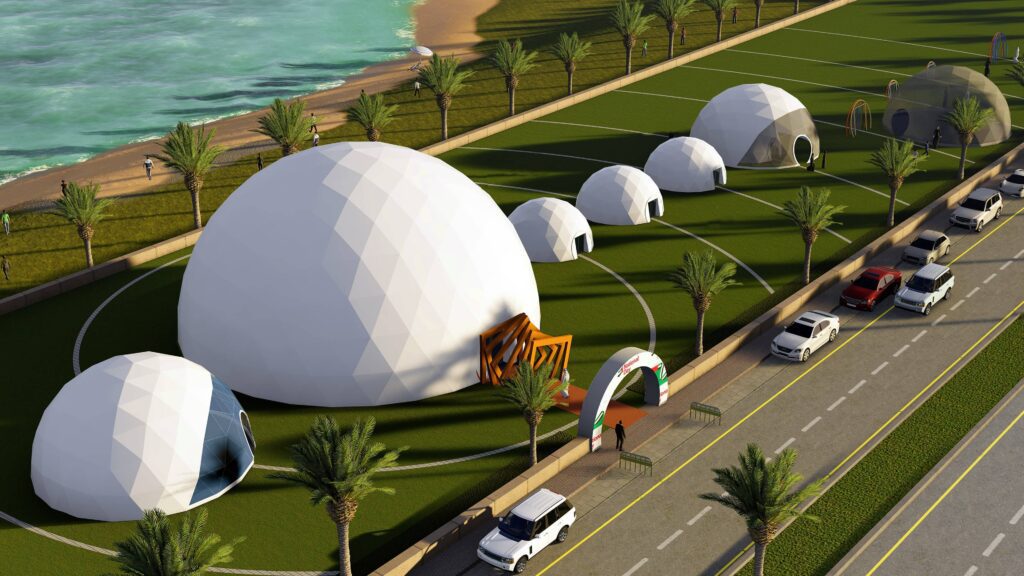 Dome Tents Supplier in Dubai
Whether you're planning a camping trip for the weekend or you're going on your first adventure don't forget that you'll need all the necessities. The most important piece of kit you'll need is a tent. Various types of tents are available to fit a variety of requirements, depending on the weather conditions and the location.
As long as you're armed with the right gear, nothing is more empowering than a trip to the great outdoors. Even a simple problem like a faulty flashlight or leaky tent can make for an uncomfortable, stressful experience. That's why we at 'Pavilion for Tents' have designed dome tents so that you can enjoy your outdoor camping experience to the fullest. We have the best camping tent out there.
In this article, we'll introduce you to dome tents and outline their pros of them to help you make an informed purchase decision for your next camping trip. Read on to learn more about the best dome tents for outdoor camping.
What Makes Dome Tents so Valuable?
Among the most common tent styles, dome tents are ideal for a wide range of activities. Two or three poles form an arch at the top, which can be identified by their curved pole structure. Adding rising sides to the base thus creates a square or rectangular base with plenty of space for headroom. Detachable groundsheets are characteristic of dome tents.
Pros of Dome Tents
Supremely Rugged
When it comes to our dome tents, you will notice that they are extremely durable. These tents stand tall where other tents collapse, owing to their tough fabrics, which can withstand strong winds, searing desert heat, and nightly winds. They are both waterproof and wind-resistant due to their high-quality materials and durable construction. Rain and snow can not pass through the waterproof material. Air circulation is maintained by intelligent ventilation
Super-Stable
With strong winds, dome tents can tumble away from their moorings and be thrown away. However, our tents are designed to withstand windy conditions. All-weather conditions are no match for these ones since they are equipped with extra moorings and sturdy aluminum frames. Domes are designed so the wind can pass through them without shaking the tent or causing it to fall flat. Durable construction contributes to stable and easy installation as well.
Exceptional Storage
We all know that tents usually aren't big enough to accommodate all the extras. Thus, we designed our dome tents with deep to pockets and vestibules provide extra storage for small tools and protective gear.
Features
Easy setup and transport, usually requiring only a few poles to thread through.
The shape of the tent allows for excellent headroom.
The strength of dome tents increases if they have more than three poles.
They are easy to combine to create more living space, making them ideal for families.
They are one of the cheapest and most accessible styles of tents.
It is probably the most versatile type of tent, as it can be used for a wide range of camping excursions.
At pavilion we have geodesic dome tents, unlike regular tents, it is meant for people who are passionate about arranging events of top quality and are in need of a high-profile design. Our dome tent design is so charming that many people choose it for when they are having a small gathering at home or want to go camping outdoors. The reason why these are so easy to assemble is that they are usually small and ideal for small events.
They are ideal for a night out under the stars, especially when you have an outdoor event. Our tents are designed to have maximum ventilation, even with a rain fly attached. Effective camping tent ventilation and superior wind resistance are built into them.
The dome tents our company supplies are available in Dubai, Sharjah & other emirates of the United Arab Emirates; we also offer installation and transportation anywhere in the United Arab Emirates.
We can also customize camping toilet tents to match the needs of any project or event. We have the best quality tents for sale in the UAE, so customers can get in touch with us.
If you are interested in learning more about dome tents or any other outdoor camping tent, give us a call today!